Change management in heart of PLM
Thomas Treuthardt – 5 min read
Whether you are a startup or an established business, managing changes can be a challenge. PLM Change Management is an important part of the lifecycle of a product going from design to delivered product. The PLM system is integral to making sure that modifications in design can be easily made and recorded, throughout the whole process.
For companies within manufacturing industry. There are number of business trends that are increasing the value of an agile and controlled change management concept. Customers are demanding new products or enhanced versions of old products with new functions and features. Situation in the world has also increased poor availability of certain components and raw materials, which has forced many companies to find new ways to produce their most regular and cost-effective products. A closer look on the material supply topic from my colleague at Scheduling production at times when material supply is a constraint – IDEAL GRP
Effective product change management is critical to continuous and systematic product improvement. From product management point of view, these challenges and trends are a question of configuration and version management. Manual processes, globally distributed resources and increasing regulations makes it difficult to respond to pressures new products demand.
How then to manage product configurations and versions efficiently and effectively. You need defined and streamlined product change management process and as well as the right tools to support them. To believe you can effectively manage change without, starts nowadays to be impossible. Today in product development there are involvement from management, customers, suppliers, partners, manufacturing, operations, support, services and so on. There are too many moving parts, connections and relations in order to manage the whole chain for a product change.
Lifecycle management is fundamental discipline to control data
All organizations that design, engineer and manufacture products are faced with change management challenges. Issues when deploying changes comes from detached development processes, broken communication chains and product definition being siloed in involved domains. Topic that colleague was touching in his blog End-to-end product traceability- an enabler for future growth (idealgrp.com)
Manufacturers need to lay the groundwork for a capable and efficient development methodology that enables serviceable product functionality. Product requirements and functions need to serve as the binder between software, electronics, electrical and mechanical designs. To ensure that developments in any domain do not accidentally interfere with a common goal. What it requires is a holistic digital model to quickly analyze how different domains or overall product attributes impacts a change request. The shared digital twin allows for analysis, optimization and balancing of different design concepts. For a given problem concepts can then be compared against technical and cost implications to identify different solutions.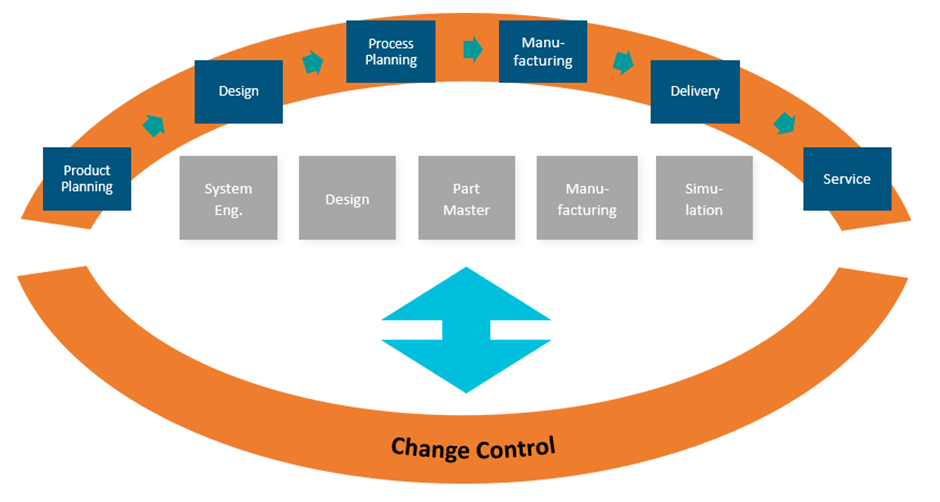 An open change management environment for the various design and verification domains as well as other stakeholders in the enterprise allows for different contributors to communicate and collaborate. All necessary information on changes is routed to the right recipient at the right time. To streamline verification processes and facilitate quick release cycles with confidence and traceability.
Change impact
Incorrect changes to an already manufactured product can result in large negative costs. This implies that any change must be analysed thoroughly and implemented carefully. It would help you understand the impact of proposed changes on requirements, BOMs, documents and other PLM elements. Taking into consideration the sales impact as well. There might appear large costs on what is available in warehouses and done in marketing in different areas.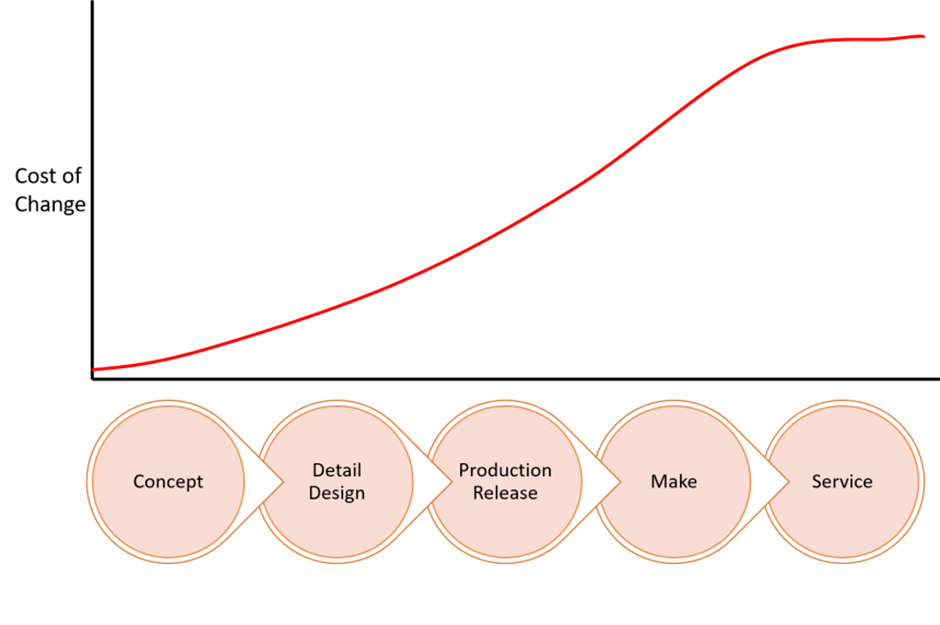 Delivered value to customers is changing. Keeping in mind the ability of continuously roll out updates and upgrades. Manufacturers are aiming for more innovative functionality across their products. This proves to be especially challenging in large and diverse products consisting of different hardware architectures and mechanical designs. For this reason, a change introduced to a product in use needs to sufficiently understand to prevent unexpected malfunction.
As well a change can for sure look tiny when recognized. Quickly it can make a snowball effect, that for one problem report, it requires two or more change requests. Change requests are easily divided into two, if impact analyses are done thoroughly. This might reduce the impact on production as timing is right when a certain component is taken in use. Biggest solutions for a change you make on change request level. For sure you probably don't want to implement changes to product on monthly basis. Instead fix it once for all. Let's take another example where impact analysis makes difference, a bunch of manufactured products. With impact analysis of change you get a full view. Do you call them back, upgrade, scrap or do nothing.
Implement change
Efficient change management processes and tools allow the different parts of the product to work simultaneously and in parallel, despite the changes. You can collect, review, and analyse change proposals before their actual implementation. To make sure only implement relevant and well-justified product changes. In other words, implementing changes to the product in a controlled way. Motivates and involves the entire organization in the change processes and reduces resistance to the change.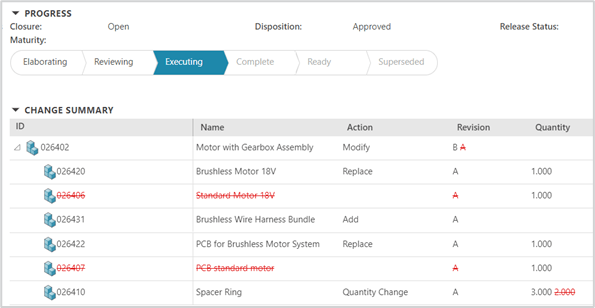 By raising the level of digitalization and automation of your change management process and the related processes and tasks, you can decrease the amount of manual work. Automation will speed up the processes and reduce the number of human errors and mistakes, as well as free up workforce to more relevant and value-adding tasks. For example, a designer might not remember all his newly created items that is related to the change. To avoid missing items as implementing a change, with right tools designer can get items logged directly to the change.
As a summary with the right tools, you can easily digitalize and document detailed change history. Ensure its availability to the entire process and for further changes to enhance cooperation across your business.
IDEAL GRP can support to improve the quality of your products, check your operations and processes and enhance the traceability of changes. In the end make the reasoning behind each change clear and transparent.
More posts

Metso aiming to improve supply chain collaboration through system simulation
Webinar (THIS WEBINAR WILL BE HELD IN FINNISH LANGUAGE) (Material will be distributed in English) August 22, 2023 – 09:00 CET Learn how Metso utilizes system simulation in their hydraulic system design. Research engineer Jesse Backman shares his learning path to system simulation, and how Metso could improve the collaboration of the supply chain through […]

Metso pyrkii kehittämään toimittajayhteistyötä systeemisimuloinnin avulla
Webinaari 22.8.2023 – 10:00 EET Tule kuulemaan kuinka Metso hyödyntää systeemisimulointia hydraulijärjestelmien suunnittelussa. Tutkimusinsinööri Jesse Backman kertoo oppipolkunsa systeemisimuloinnin pariin ja kuinka Metso voisi kehittää yhteistyötä toimittajaketjussaan systeemisimuloinin avulla. Tärkeimmät opit esitellään käytännön suunnitteluesimerkin avulla.​ Kuinka parantaa yhteistyötä toimitusketjussa systeemisimuloinnin avulla? Mitä systeemisimulointi on? Systeemisimulointi yhdistää yksittäisten komponenttien ominaisuudet ja vuorovaikutukset koko järjestelmän dynaamiseksi käyttäytymiseksi. […]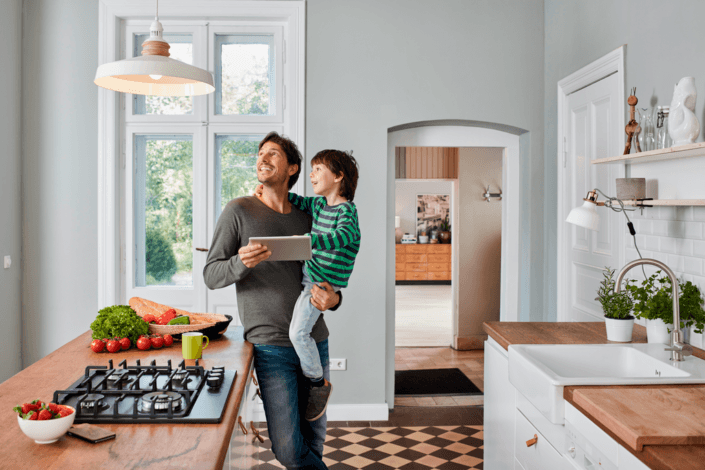 From Chaos to Clarity: Embracing Modularity
by Olli Uuttu • 8 min read Dear reader, have you ever wondered what goes into building a truly modular product? It's not as easy as it may seem. While there are several proven methods available to plan and implement optimal modular architectures, it still takes effort, dedication, and discipline to succeed. I'm sure you […]