Engineering Works! Buy Solid Edge, get SpaceMouse® Enterprise for free!


IDEAL GRP has teamed up with 3DConnection for a special campaign, celebrating successful engineering for a limited time only!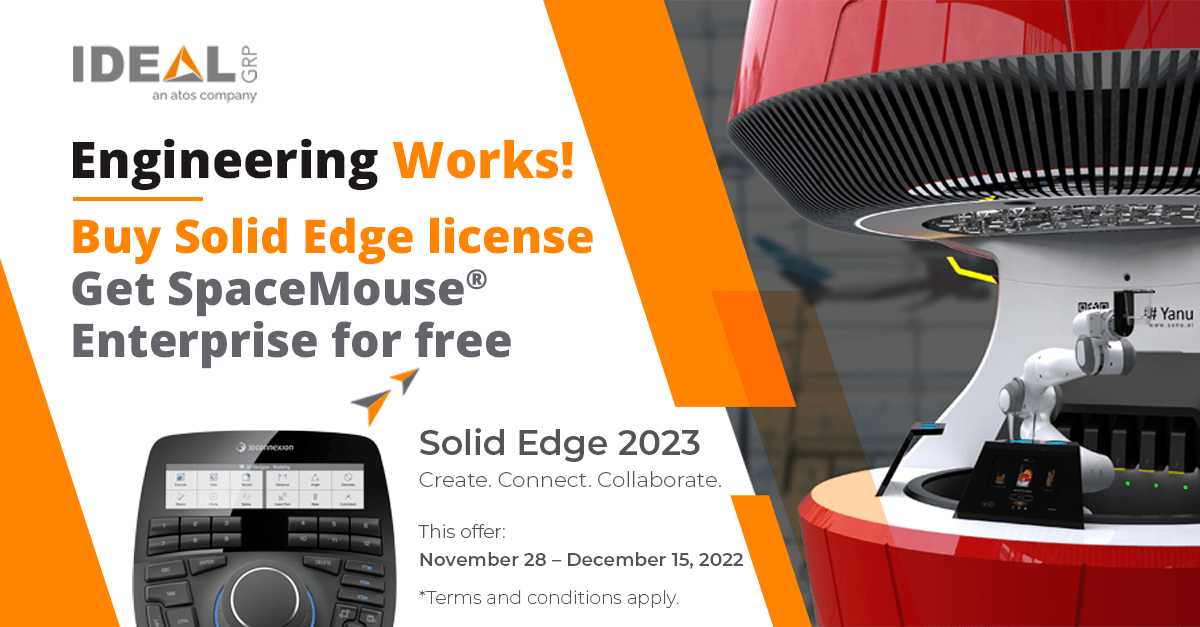 Solid Edge 2023
Create. Connect. Collaborate.
Solid Edge 2023 adds a host of new functionality to streamline your product design. Experience seamless collaboration between teams and systems with new interoperability enhancements. A new look and feel suits the way you work, allowing you to do more with fewer clicks. Do more with mesh models with new simulation capabilities. Save time and money in manufacturing by eliminating errors during inspection. Experience it with new licensing options that give you the features you want when you need them.
Learn more about Solid Edge 2023!
SpaceMouse® Enterprise
Built for prime engineering performance.

CAD experts demand the highest level of performance in their daily-use work devices. In professional environments where quality output means everything, SpaceMouse Enterprise is the cornerstone for any engineering team, architectural design firm, R&D divisions and more.
Learn more about SpaceMouse® Enterprise
How to get the offer?
Get in touch with your IDEAL GRP contact person
Get in touch with us at info@idealgrp.com
Call us locally
Finland: +358 9 540 4840
Sweden: +46 10-209 98 00
Norway: +47 66 85 99 00
Denmark: +45 226 448 34
Estonia: +372 680 3060
Terms and conditions
The offer starts on Tuesday November 29, and closes on Thursday, December 15, 2022.
The offer is open to new and existing IDEAL GRP customers for purchases made between the start and the end date of the campaign.
The offer cannot be used in conjunction with any other special offers.
The complementary product with the Solid Edge license purchase is SpaceMouse Enterprise and it cannot be redeemed to cash or exchanged to any other product.
IDEAL GRP is responsible for shipping the SpaceMouse Enterprise to the customer in the address provided by the customer.
The purchase may be a license, a rental for a minimum of 6 months or a subscription of 12 months minimum.